If anything can do wonders for a couples' intimacy and excitement in the bedroom, it
undoubtedly a bit of sexy dress-up and fantasy play. Since Halloween is just around the
corner, why not take the opportunity to dabble in some steamy role-play?
Exploring new endeavors within your relationship can make a relationship stronger and healthier!
Dressing up can liberate and boost your confidence, once you step a bit outside of your comfort zone and that's when the magic truly happens. A sexy dress-up can make a huge difference in lighting a fire between couples' dynamics. A fun, sexy night of dress-up definitely isn't getting all the hype
it should be.
So, with your new craving for sexy role-play and Halloween approaching, it's the perfect time
to think about your erotic Halloween costumes. But, if you are not sure where to start, not to worry. We have curated the hottest list of sexy Halloween costumes every queen can pull off. So,
let's light that fire and surprise your significant other with a sight they will remember while they live and
breathe.
For erotic Halloween bedroom costumes, you cannot go wrong with the
classics! There are many different choices when it comes to Halloween costumes out there. However, if you're into some serious erotic fantasy play this Halloween, let us hook you up with some
mouthwatering choices. Although we can't guarantee you, they won't get ripped up.
Sexy Nurse Aesthetic
Did someone have a fever? your naughty nurse is here to help! Another one of the classic looks among costumes, the fantasy of having someone look after you is all the more fun. Pair your sexy nurse costume with some equally flirty fishnet thigh highs and a hot red whip to help your patient recover all the faster !
Sexy Bunny Style
Bunnies: innocent fluffy animals with a pretty solid reputation until the legend Hugh Hefner
came along. Once Playboy bunnies were focused in a different light, nothing was ever the same. Now, put a woman in a bunny costume, and ooh boy, there will be trouble. Bunnies are sex symbols now, no doubt about it. Cute bunny, bunny maid, Playboy bunny - all of them work in the same way, turning innocent
into sexy, which is something many enjoy when it comes to erotic fantasy play.
Luscious School Girl Costume
This is undoubtedly another one of the classics, it is certainly not a surprise as to why. The schoolgirl style will always be one of the sexiest rave cave outfits. The best thing about it is that it's almost effortless to pull off. A plaid mini skirt, white shirt, a simple tie, and you're all set. Add some knee-high socks and
pigtails to your look, and voila! The class is in session!
Angel vs. Demon
Which are you - naughty or nice? Pick a side and dress for the occasion. Since it's Halloween,
white or dark angels and demons are the most obvious choices. After all, how can anyone resist
an angel fallen from the sky? A sexy bodice, panties, and some decorations are all you need to
get this scorching hot look. If you're more into dipping into your dark side at the moment, add a
pitchfork or a cape to create a hot devil/demon character.
Sexy Spellbinding Witch
It's Halloween, right? So, why not try the classic? Let us help you think of it while your love
potion is simmering. It's actually pretty straightforward, All you need is black lace, some gloves,
and sexy stockings. Then, try the luxurious cape with a hood to get that sexy, mysterious look if
you want to go the extra mile.
Release the feline power
Catwoman is the embodiment of a sex symbol from her alluring personality to her vinyl catsuit, she is a goddess all on her own. A classic black lace bodysuit and leather leggings are a simple way to style this costume! or you can try a vinyl look for the daring crowd. All there is to do is paint some whiskers, put your cat ears, and purrrrr.
Sexy Maid
Another one of the classics and easy to pull off is the sexy maid costume, excellent for
foreplay with it being a big crowd favorite among many. This steaming hot lingerie set loves to be accessorized with stockings and a choker to complete the full sensual look. Additionally, this particular
erotic outfit is a well-spring of roleplay ideas. So, it's a bulletproof option if you ask us!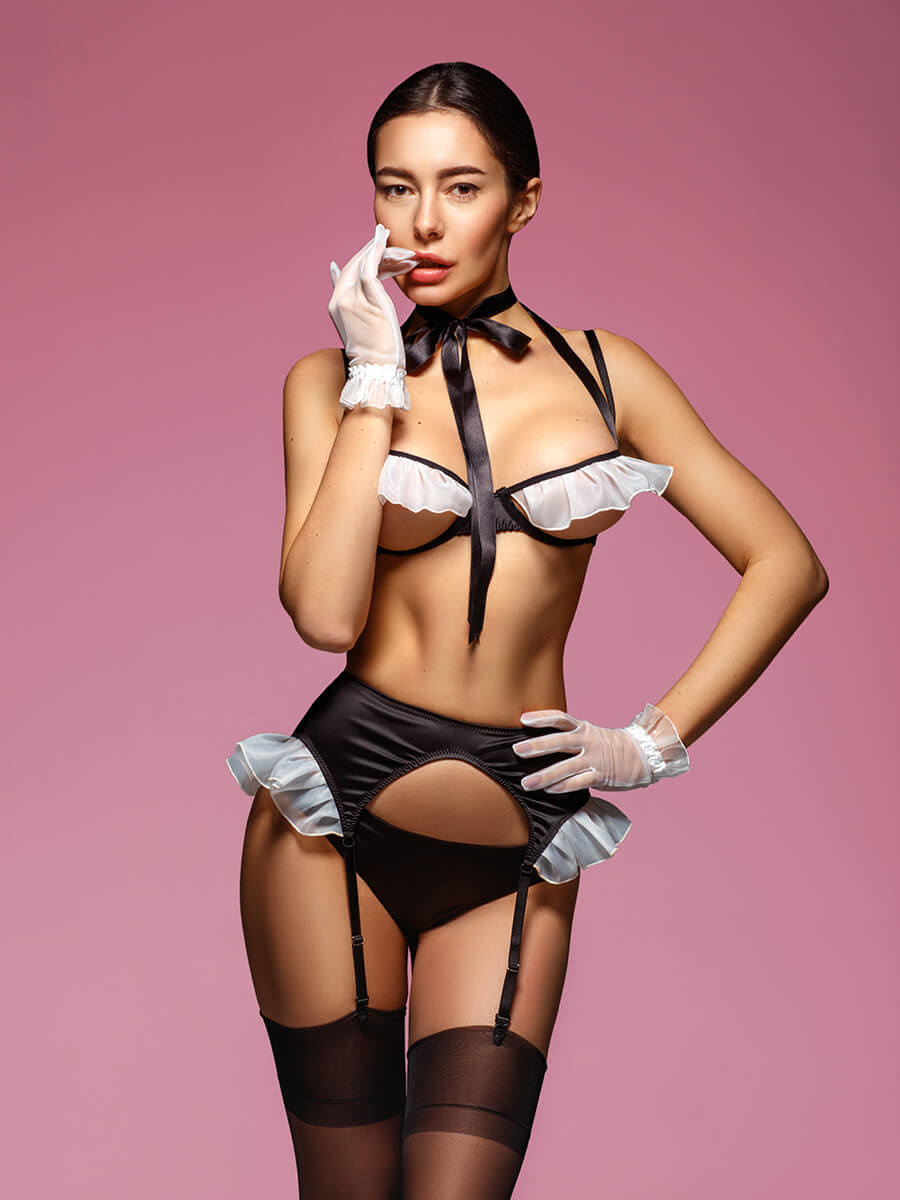 Halloween is creeping up, so if you've decided to get your sexy fantasy on, it's time to think
about your options. We hope we got you inspired and ready for some sexy and spooky encounters.
Trick or treat and we hope you're something good to eat!